Junior Accountant
Georgetown,
Full time
Posted On 04.25.2023
Expire On 05.03.2023
Employer
Description
Must be residing in Guyana.

Key AccountabilitiesHealth and Safety
Ensure compliance with company occupational health and safety policies and procedures and relevant regulations.
Actively promote safety awareness amongst Company and contract personnel
Actively support and participate in safety initiatives.
Environment
Ensure compliance with company environmental policies and procedures, relevant regulations and all environmental commitments.
Actively promote environmental responsibility amongst Company and contract personnel.
Actively support and participate in environmental initiatives.
Promote Environmental Awareness through available media.
​Key ResponsibilitiesParticipate in, and perform, those financial accounting duties as part of the Month and Year-end Close Process in the preparation of the Monthly and Year-end financial statements, and to provide support to the Financial Accountant in the execution of these duties.Pronto Month End Reconciliations in accordance with Month End Close Schedule
1. inter-company,
2. all reconciliations – bank, credit card, GL`s etc
3. accruals
4. prepayments
5. GRNI & GIT
6. Project reconciliation
7. Other balance sheet reconciliations – current assets and liabilities
Preparation of Monthly VAT Returns and Application for VAT Refund and submit to the GRA on a timely basisEnsures that appropriate levels of internal control exist within the accounting systems and processes.Participate and perform duties required as part of the year end external auditMaintain an effective and professional level of communication across all departments with respect to controls and systems and proceduresAny other accounting related duties reasonably expected of this position.Key Competencies:
(include level of communication to inform or influence others)
Must be honest and trustworthy
Highly motivated and organised with attention to detail.
Excellent communication / interpersonal skills
Ability to use initiative and work under pressure with limited supervision
Good decision-making skills.
Excellent Teamwork skills
Ability to manage time, multi-task and work both efficiency and effectively.
Able to employ conflict resolution skills mainly internally to the company in dealings with other functional areas.
Able to create positive synergy within department and other departments.
Willingness to grow and develop skills.
Health and Welfare above all else
We recognise that our most important asset is our people. As such, we identify hazards and put in place effective controls as part of the way we work.
Customer Focus
Delivering on our promises ensure our longevity and continued growth. We understand our customer (internal and external) needs and deliver on our commitments.
One team one purpose
Together we achieve more. We actively seek opportunities to leverage our unique skills and experiences to achieve more every day.
Everyone is a leader
We take responsibility and accountability for our actions and we demonstrate respect and courage every day.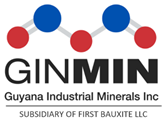 Overview
Guyana Industrial Minerals Inc.
Tags
Accounting-Finance
: Financial Control, Bookkeeping, Collections, Corporate Accounting, Corporate Finance, Credit Review-Analysis, Financial Analysis-Research-Reporting, Risk Management-Compliance
Career Advice
Interviewing Tips!
Interviewing Tips! Here's some tips to make a great first impression at interviews! [video width="1280" height="720" mp4="http://jobstt.com/career/wp-content/uploads/2017/07/Interviewing-Tips_edit.m…
Read More